From DMS (Data Management System) Web, you can change your UNANet login password.
Once you have successfully logged in to DMS Web, below your personal information, there is a button to change your UNANet password.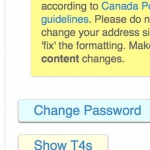 Changing your UNANet password, either from FirstClass or DMS Web changes for both services as they share the same information.
Please read the document regarding selecting a secure password: UNA Choosing a Secure Password