Renaming a Folder:
In Mailbox select folder by clicking on it once it will be highlighted in blue.  There are two methods.
 Method One:
From the FirstClass menu bar, click File, then click Get Info.
A screen will pop up for allowing the name of the file to be changed.  Enter new name of file in Name.  Once changed click OK.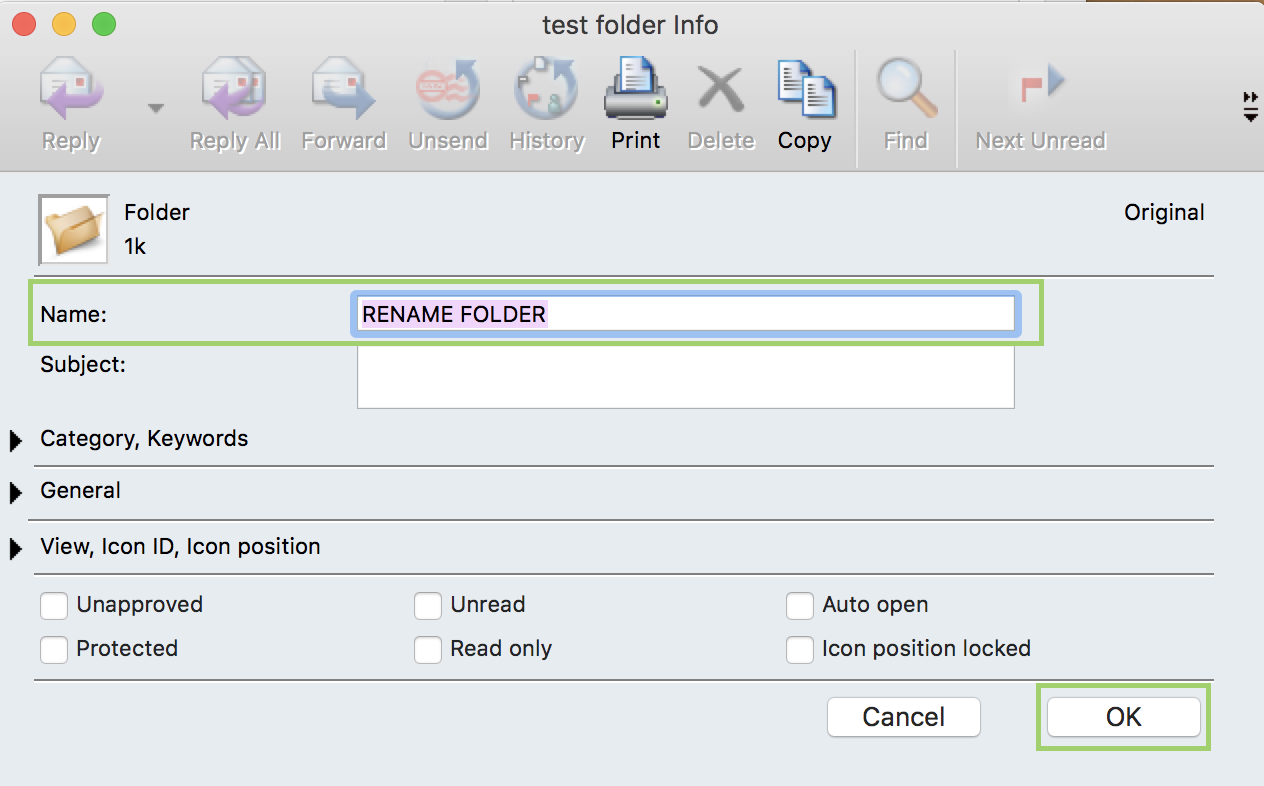 Method Two:
Highlight folder and Right-click mouse button, then click on Rename.
The folder will be highlighted and you can Rename the file.  Type in the new name of the folder. Hit enter on the keyboard and the name has been changed.
Mailbox:
Options for viewing can be found on FirstClass menu bar View.
View by Icon – icon size is to default.

View by Scaled icon – gives control of icon size.  To change size right mouse button, click and click on Change View Properties.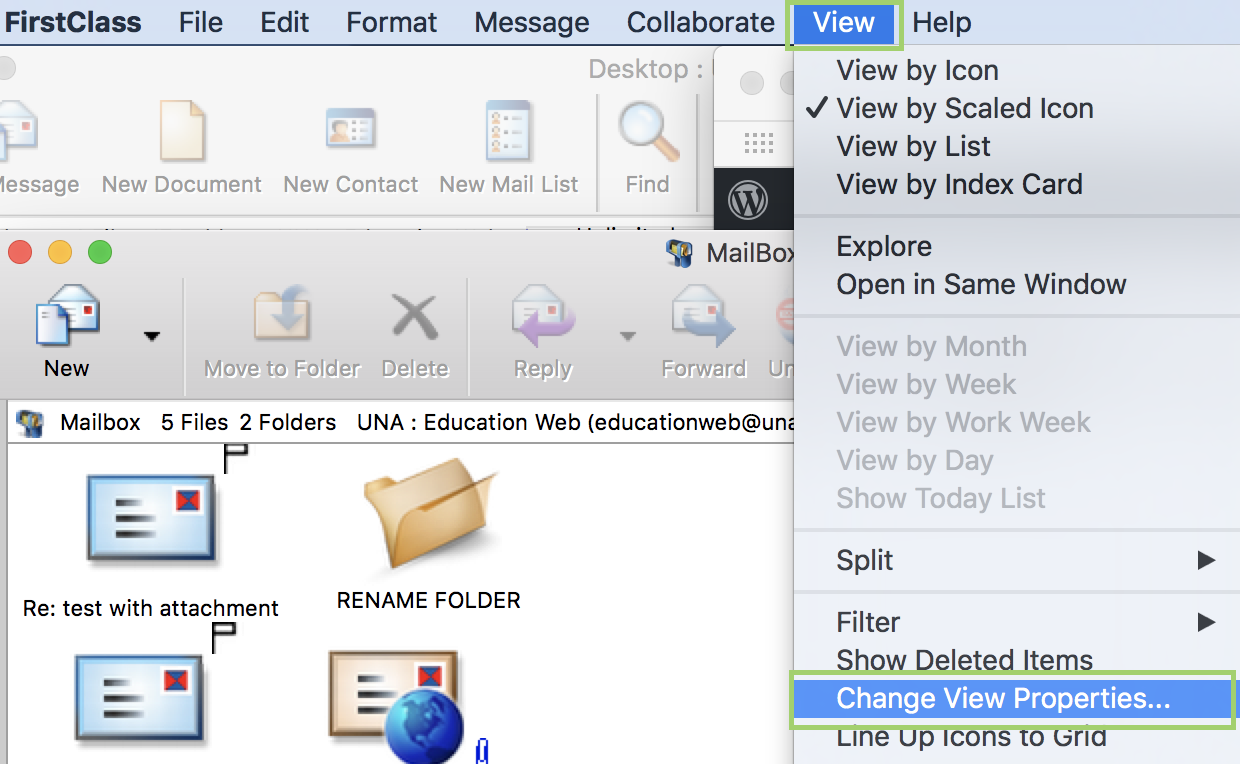 The View Properties screen will pop up.  Click on the Icons tab then adjust size of Icons by moving the adjusting bar located in the middle of screen.  Click Apply and OK to save changes.

View by List – lists your messages (most common view).

View by Index Card – shows the index card for each message.
View by splitting screen – From FirstClass menu bar click View then Split and choose which one you want.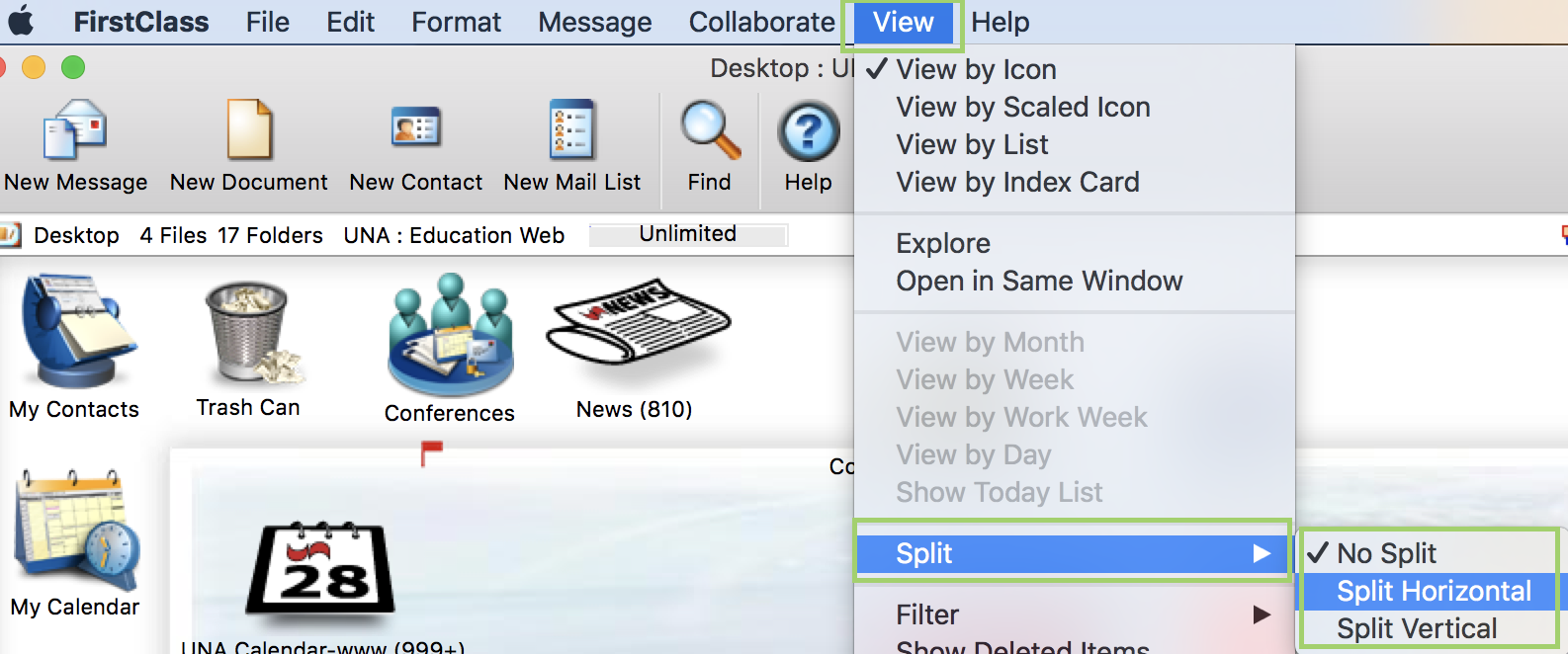 Vertical Split – files stored in folders on left and new messages arrive in Inbox on right.
Horizontal split – files stored in folders above and new messages arrive in Inbox below.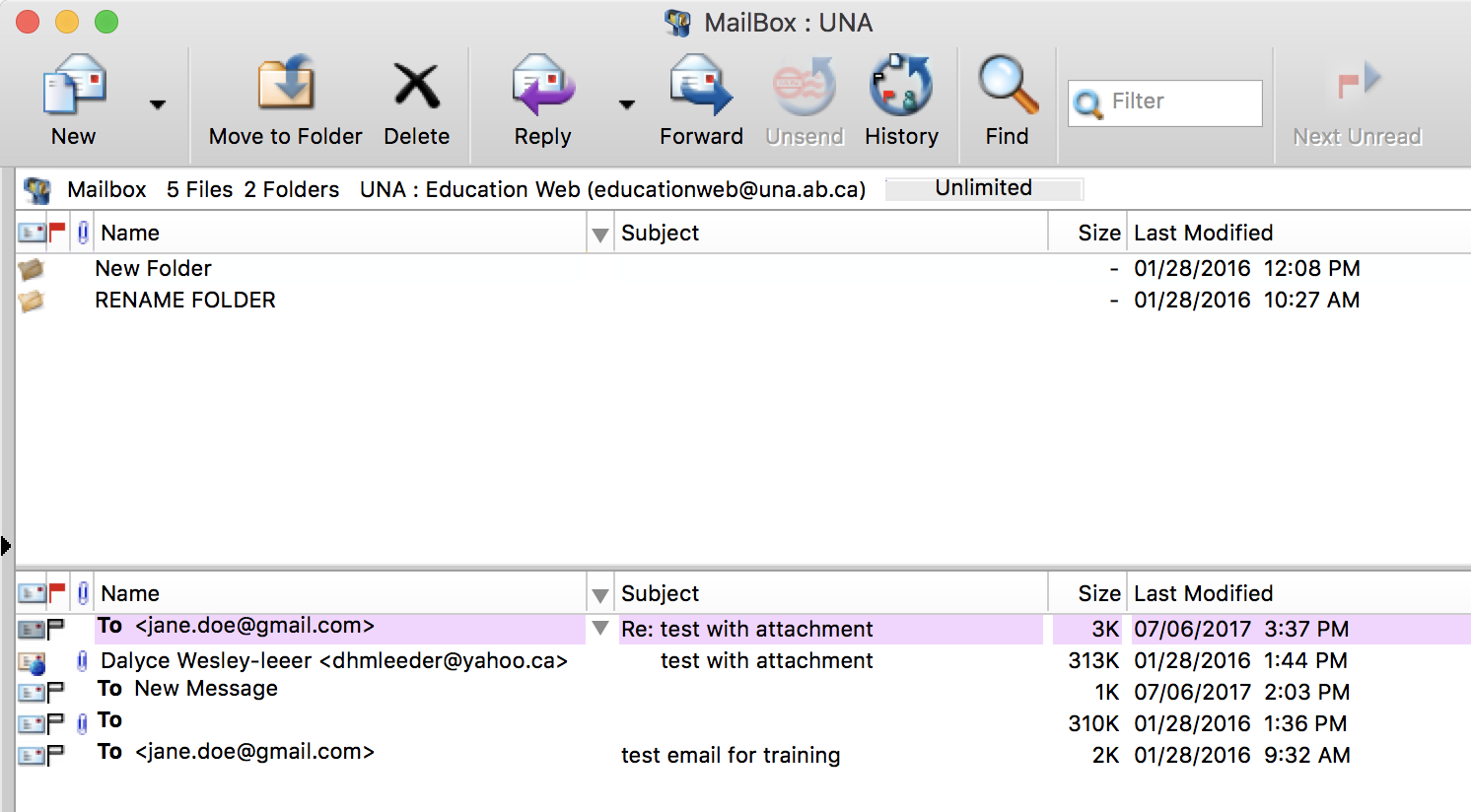 Organizing messages:
Saving messages for future use is helpful only if you have a system that allows you to locate them.  Split the mailbox into File Storage and Inbox.  Name your folders to create categories that are useful to you. Before you begin creating folders, be sure you click in the portion of the window in which you wish the folders to appear.
 Creating Folders
 UNA mailbox Tool bar drop down New then on New Folder.
OR
 FirstClass menu bar File, New then New Folder.

Name new folder.  See directions above.
Locking and Unlocking Folders                                  
You may want to lock folders so they can not be accidentally deleted.  If they are locked and you want to Delete folder you will need to unlock.
To Lock and Unlock you will need to highlight Folder and click on File, Get Info.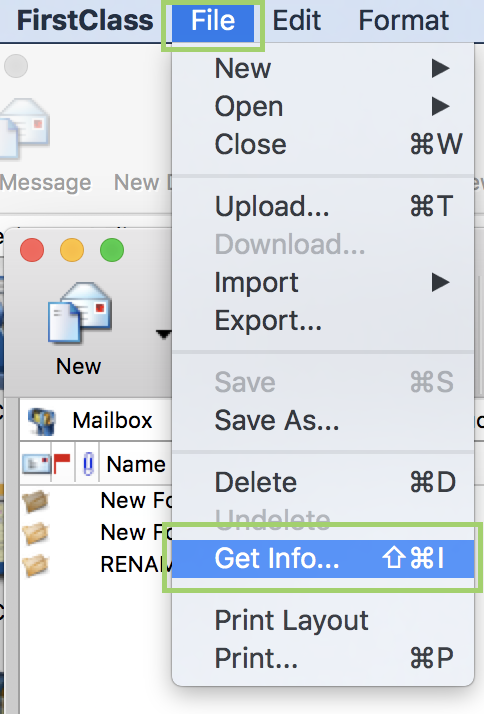 The Folders Info screen will open.  Click on Protected, when the Check Mark is present it is protected and to remove the Check Mark, click on it and it will be removed.
Moving Messages:
Select the messages you want to place in a given folder by highlighting them.  Left–click on a message and drag down to highlight.  Then move the highlighted message or messages to the folder desired.
NOTE:  If you hold the pointer over a folder it will spring open so you can see the messages appear after you release the mouse button.
Mailbox& Optional – View Properties:
FirstClass sorts the contents of your window according to the column you selected in List view.  Look for the sort indicator (bars), up is for ascending and down is for descending order.
Sorting by date – Column of Last Modified needs the sort indicator so the window can display content by date.
Sorting by name – Looking for a message from a particular person helpful to sort the list of messages by Name. Message with the word TO in front of name are all outgoing messages.
Sorting by Unread – Column with the label of Red Flag shows unread messages. Messages with a white flag are messages that have not been sent.  Might be useful to pull all the unread messages into a group for easy reading.  Click on the Red Flag column so the sort indicator appears for that column.
Using the Filter – Filter works a limited type of search to locate particular messages with in the window.  Whatever is entered into the Filter window, only messages containing that character combination will be displayed.  The rest are hidden.  Remove the Filter to display all messages in Inbox.
Change View Properties:
The Change View Properties feature provides access to controls for Display, Lists, Icons, and Backgrounds.
Found under View, then click on Change View Properties.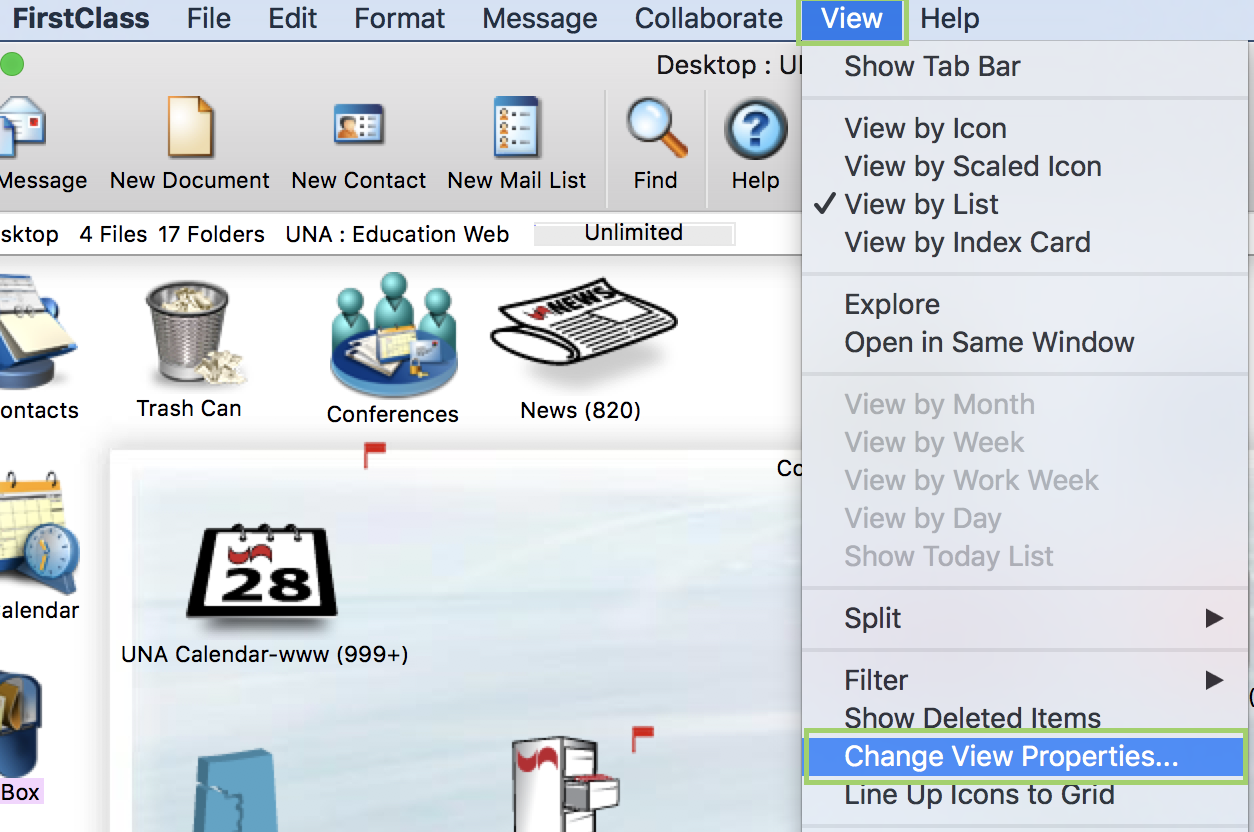 Display allows for personalization of the way the email messages are seen.  The Font can be changed; the color of text can be changed by using the drop down menus.  Once the changes have been selected click on OK.
Lists allows for the the setting for Sorting, Grouping and Appearance.  Changing the sort for a particular purpose is helpful.  The sort might be left on Date Modified for most work, placing messages from newest to oldest. But if you need to locate a particular message from a particular person, change the sort to Name.  Messages are now displayed alphabetically by first name.  Grouping is a setting that groups messages together by Flag, Subject, Size etc.  When messages are grouped, sorting by date or name is extremely messy and often useless.  For most users, the best option is to Group by Subject.  Do Not set the Collapse all groups as you will hide messages.  Appearance is how you see the column Titles.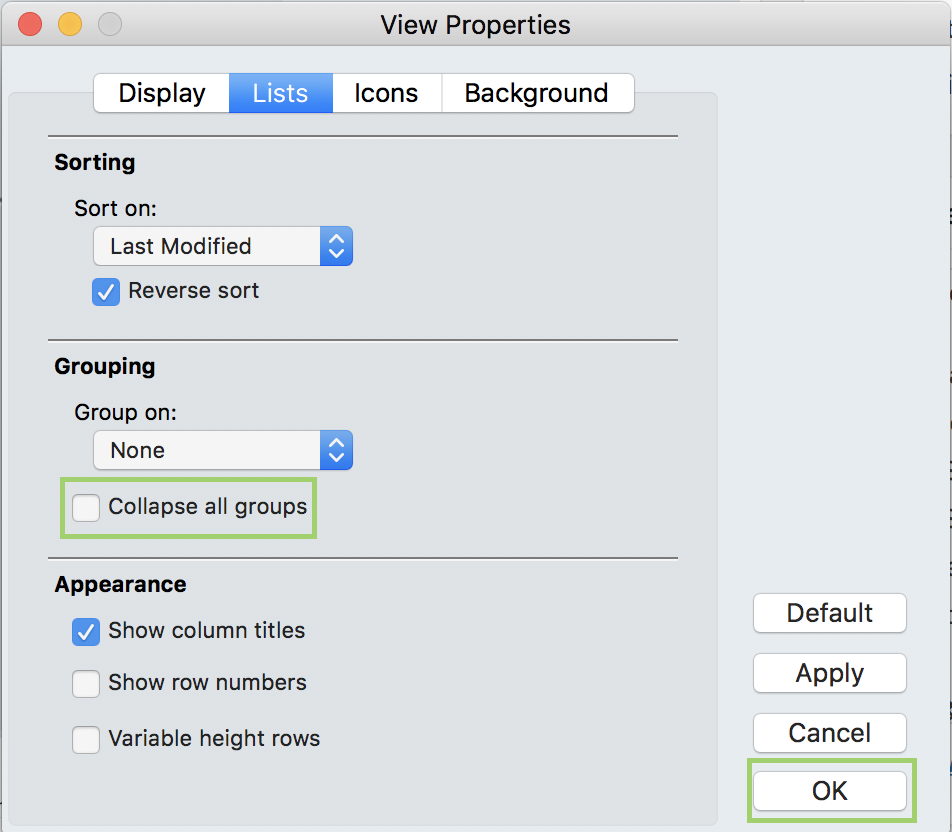 Attachments:
When sending an attached file, be clear on the purpose of sending it.  If you wish to share information only send the file as a PDF so that any viewer will be able to easily open and read.  If you want the file to be able to be edited, then you and the recipient need to have compatible software to open and edit the file.
There are two methods to attach a file.
Method One: Create a New message by clicking and dragging your attachment into the grey area at the top message.  Your file that was attached will show by Attachments.

Method Two: Create a New message and click on Attach and the Choose an Object screen will appear. Double click on the File that needs attaching or highlight and click on Choose.


Downloading an attachment to your Computer:
 Method One: Open the message containing attached file.
The attachment will be by the wording Attachments in the grey section of email.
Click and drag the attachment to desktop of your computer.
FirstClass will download it to your computer.

Method Two: Go to FirstClass menu bar click, on File, then click Save As.
The Save screen will pop up.
Save As: Enter File name to be saved.
Where: Use drop down to choose where file is to be saved.
Click on SAVE.
Knowing what application was used to make the attached file:
File sharing is a two-way responsibility.  Sender and Receiver need to work together to ensure files will open.  The sender should indicate the file type in the body of the message.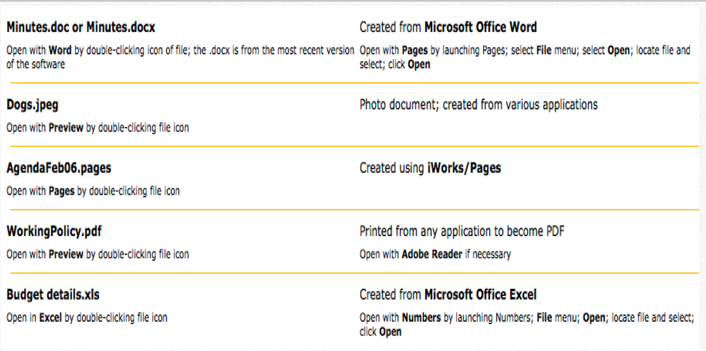 Opening an attachment that is now on your computer desktop:
Download file to desktop.
Double click on file icon. File will open with the correct program.
 Conferences:
 Purpose of a conference:
Conferences are public forums for discussions and sharing information.  Not every UNANet member can see every conference that exists.  Each person is given access to conferences of interest and value to them.
Some conferences are thought of as a library. Read the items that are of interest. Read items by particular people.  Read items with subject lines that indicate content.  On other conferences, read everything that is posted.  Example: everything should be read on the District Conference and Local Executive Conference.  When inside a conference, and the *new message* is chosen the message will be automatically addressed to the conference.  Before sending any message, check that it is addressed to the correct person(s).
Receiving the Local Executive Conference:
Permission to receive the Local Executive Conference is automatically granted when you are named to the executive and removed once you leave the executive.
For those on the executive who want to manually grant and remove permissions, please see Executive Tips and Tricks.
Why does an Executive member need to receive Local Executive Conference?
Your ### Exec Conference is your primary system for delivery of information on your local.  This conference will be used by Membership Services to deliver updated information relevant to your local.  This conference is used by Centralized Accounting to deliver updated statements to keep your local informed of the finances of the local.
This conference allows you to send one message to all members of your Local Executive to help keep the communication simple and efficient.  All executive members are responsible for keeping the local informed and working together to ensure that information is received and delivered in a timely fashion.
The UNA Constitution includes direction that all executive members must access and read this conference on a regular basis.
Customizing FirstClass:
Adding Shortcut to FirstClass desktop.
Allow for a shortcut from within Conferences to the UNA Desktop.
Highlight the icon requiring a shortcut.Click on Collaborate on the FirstClass menu bar, then click on Add to Desktop.
The second method to add a shortcut is to highlight, right mouse button click and choose Add to Desktop.
A third method is to Left mouse button click and drag. When you click and drag you need to use the Shift button on your keyboard.
Deleting shortcuts from FirstClass desktop:
To remove icons for which you no longer need shortcuts, right mouse button, click to highlight and open dialog box.  Click on Delete.
The second method is to Left Click the mouse button so the item is highlighted.  Then use the FirstClass menu bar and click on File, and then on Delete.
Adding and Removing buttons from the toolbar:
This function can be executed in any window for FirstClass.  Choose the window the button is to be added.
From the FirstClass menu bar, click on View, then on Toolbars, then on Customize Toolbars.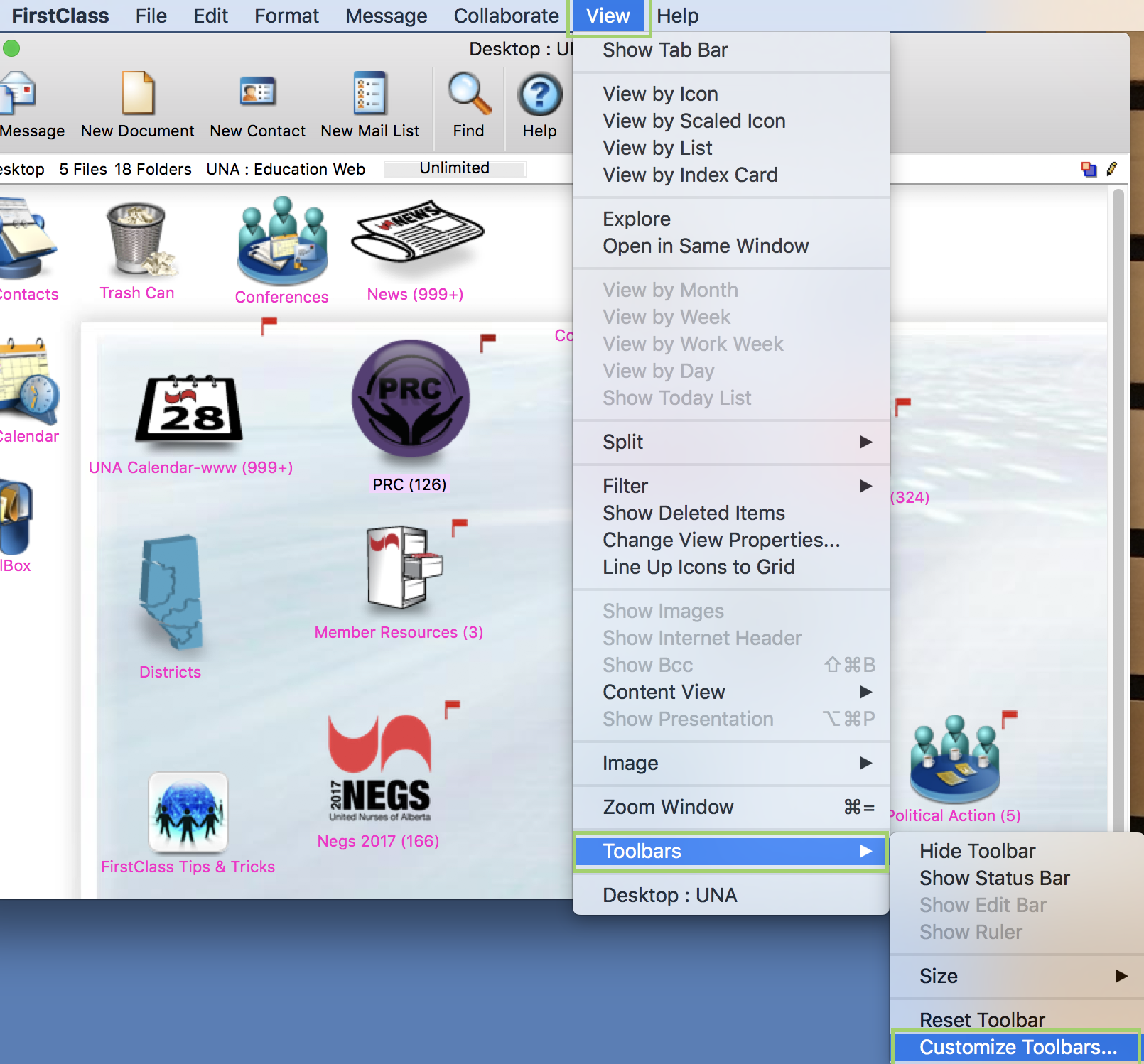 The Customize Toolbars screen will pop up. Left click the mouse and drag the icon desired onto the toolbar. You can then rearrange tool bar by clicking and dragging icons to the positions you desire.

To remove an unwanted button from the toolbar just click and drag it back to the Customized Toolbars screen, complete the  same steps in reverse.
Adding a Signature to email messages:
A signature should be attached to all email messages.  The signature should include identifying information so the receiver can easily identify you and your location.
Example: Jane Doe
Human Resources of ABC
780-123-4567
To create a permanent email signature, go to the FirstClass menu bar open FirstClass and click on Preferences.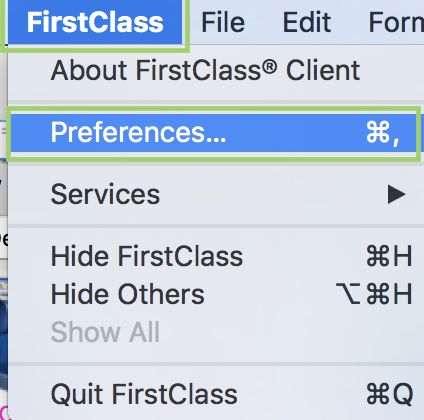 The Preferences screen will pop up.  Click on Messaging, then on Initial Content.  Type in your desired signature.  Note: User can control typeface, font size, etc. Make sure to click in the box beside Add default signature to all new messages.  Once the signature is complete click on Apply then on OK.
Auto-Reply for when you are away from the office:
To create go to FirstClass menu bar and open FirstClass, then click on Preferences.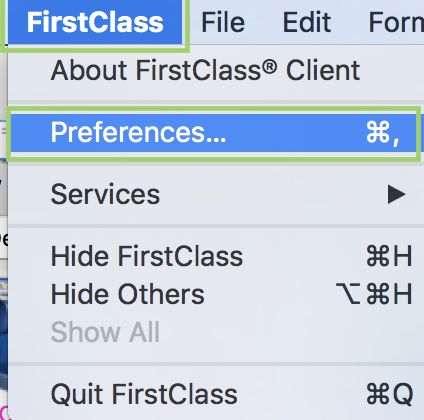 In the Preferences screen, click on Messaging then on Mail Rules.
Reply preference: Reply All.
Local mail: Yes.
Internet mail: Yes.
Reply text: Enter your out of office message.
Click Apply then
NOTE:  Once you return to the office you will need to remove these setting.
Searching in FirstClass
There are two methods to Find messages in FirstClass.
Method one
Use the Find button on tool bars.
The Find screen will pop up enter in Find what the search is for, then click Find.
Results will appear.
Method Two
Use the FirstClass menu bar.  Click on Edit, then on Find.  A pop-up screen will appear for you to search in.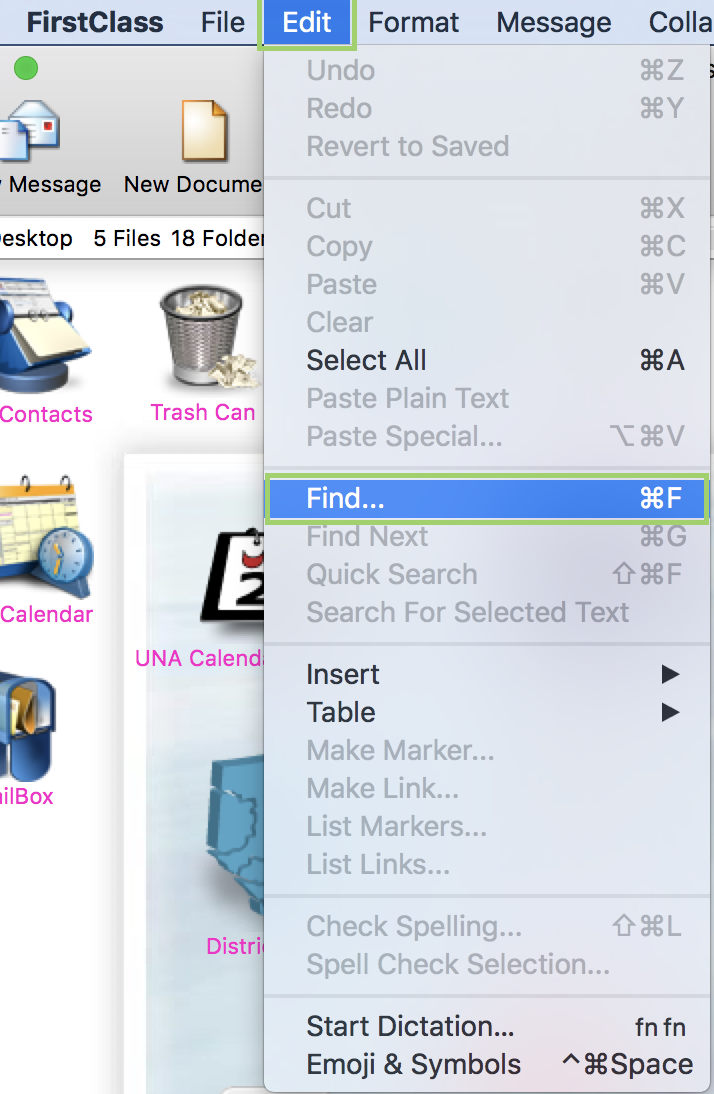 The Find screen will pop up enter in Find what the search is for then click on Find.
More Options for searching with Find.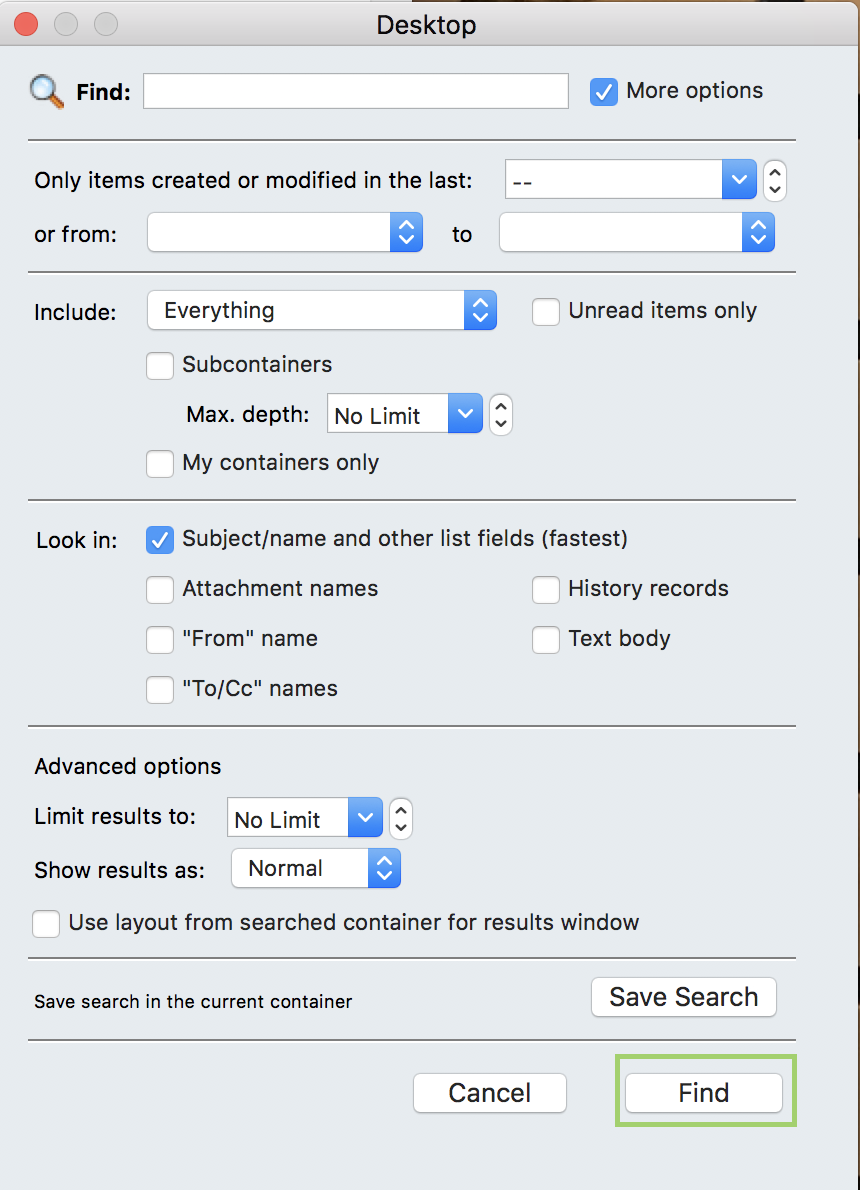 Find: This opens a field to allow a specific term to be entered and searched.
Time Period: allows control over a set date range for messages.
Include: Option tells FirstClass what containers/folders to include in the search. The default is set to include everything. However, if you know the message you need is in a specific folder, open the folder before starting the search.  The search is much faster this way.
Look in: This option is extremely helpful since the default restricts the search to the Subject/name and other list fields.  Adding one or more of the other options may slow your search but could also make the search results more accurate and useful.
Advanced options: These often do not increase the value of a search, but you are free use them if desired. (EX: the ability to limit the search to X number of results.
Save Search: Saves the results of the search to be used later if needed.  The results are identified with a magnifying glass icon and an identifying search parameter in the Name column of the folder where the search was conducted.
Creating a Mail list in my Contacts
Open My Contacts from UNA desktop by Double clicking.+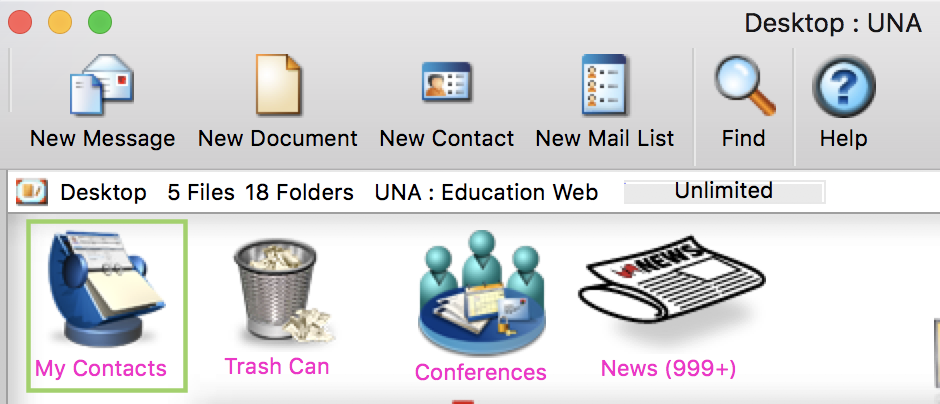 Click on New then on New Mail List once the My Contacts screen opens.
Name: Enter the name of new List contact. Click OK.
To add Personal Contacts into a list, click and drag the contact to the Members field.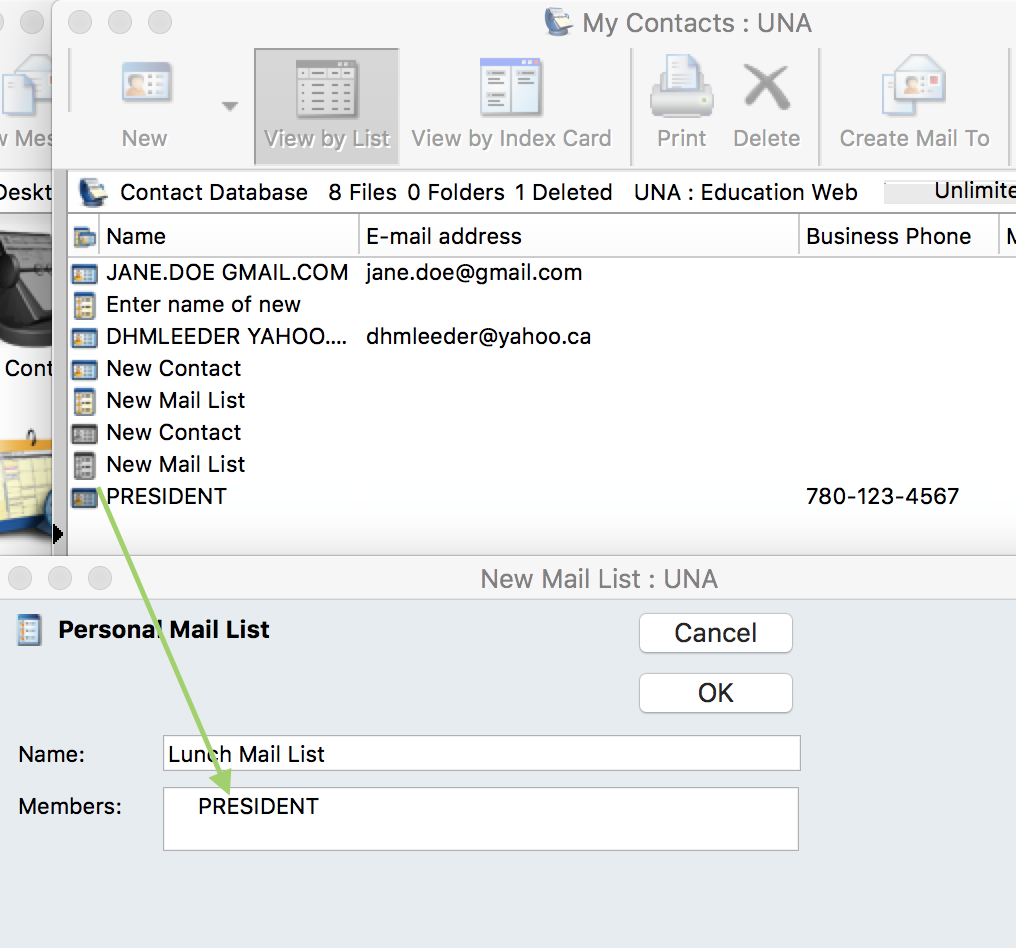 To add members of UNA to a Mail List just type their name as you would if emailing them and Tab on keyboard to populate their name.
Mail List vs Conference:
Please do not mistake the convenience of the Mail List option with the value of using a Conference.  Mail List feature allows you to do bulk mailing.  In this case one message is sent to multiple recipients.  The message appears in the Conference folder and all members of the group have access to it.  Create your message as usual, but use the conference name in the TO: field of your message.  Some Conference folders open a pre-addressed message when you use the New Message button.
When you send a message to a Mail List, a message is sent to each person in the list.
Since many Conferences contain pre-addressed stationery as the New Message option, be careful to read the address of any message you create.  If you have a read item in the District Conference but want to respond to just the person that posted the message, you will need to ensure that you correct the address.  In this situation, use the Reply to Sender option.
Directory vs Contacts Folder:
Two places in FirstClass store email addresses and other information about the individuals who use the UNANet system.  The Directory is the place where all members of UNANet system are listed.  The Contacts Folder (or Address Book) is the place to add contact information about people outside the UNANET system.  In addition, the Contacts Folder is a place to create mailing lists.  You can access these two resources using the buttons on the toolbar.  Or, the Directory option in the Collaberate menu.  Or, use Command-L.
Directory – Addressing a message to someone in UNANet
Shortcut the process by entering part of the intended recipient's name and letting the software enter directly or give you a list of choices. You may also search by entering part of the intended recipient's first name and last name. For example, "dav clim" will find only David Climenhaga, but "da cl" will find additional names.
 Contacts – Using Email for People outside UNANet
You can create shortcuts to address email messages to people who are not part of UNANet.  This done using the Contacts Folder.  Unless you decide to share your contact list, you are the only person able to access the information or add to your Contacts Folder.  To open the Contacts Folder, click the Contacts Folder button (or use keyboard shortcut Command-2.)