To join a WEbEx hosted meeting by phone audio only.
Step 1
Get the unique Webex meeting number. If the person hosting the meeting has scheduled the meeting, they will usually send the information to you in an email, perhaps shared the meeting code in a text message.
You cannot join the meeting prior to the start time of the meeting if it is a scheduled meeting.  The host for the meeting may wish to start the meeting early, and they can do so from their dashboard after they log in to Webex.
Step 2
The email may have a link in the email you can press from a mobile device that will dial the number to reach the meeting. It may be a long distance call.
If you are manually dialling in to the meeting, when you reach the Webex system, it asks for the meeting access code followed by the # & then the (attendee ID)  followed by # (pound).  If you do not know the attendee number (##) and the meeting is not restricted, you can press # again and it will admit you to the meeting if it is already in progress.
The email with the meeting details should look similar to this: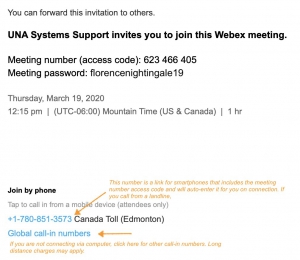 There is no step 3 – you are connected to your meeting!