EI Trust Fund claims are available to all members that are/were in a local that has EI Trust Fund.  If you  have an UNA account log into DMS Web.
From your Home screen click on EITF Claims.
My EI Trust Fund Claims page will open click on New Claim.
EI Trust Fund Claim screen will appear and member's information will default in along with Direct Deposit information.

Choose the correct Local and enter in information for claim.  If more than one claim click on the Plus Sign to enter another line.  Click on Submit.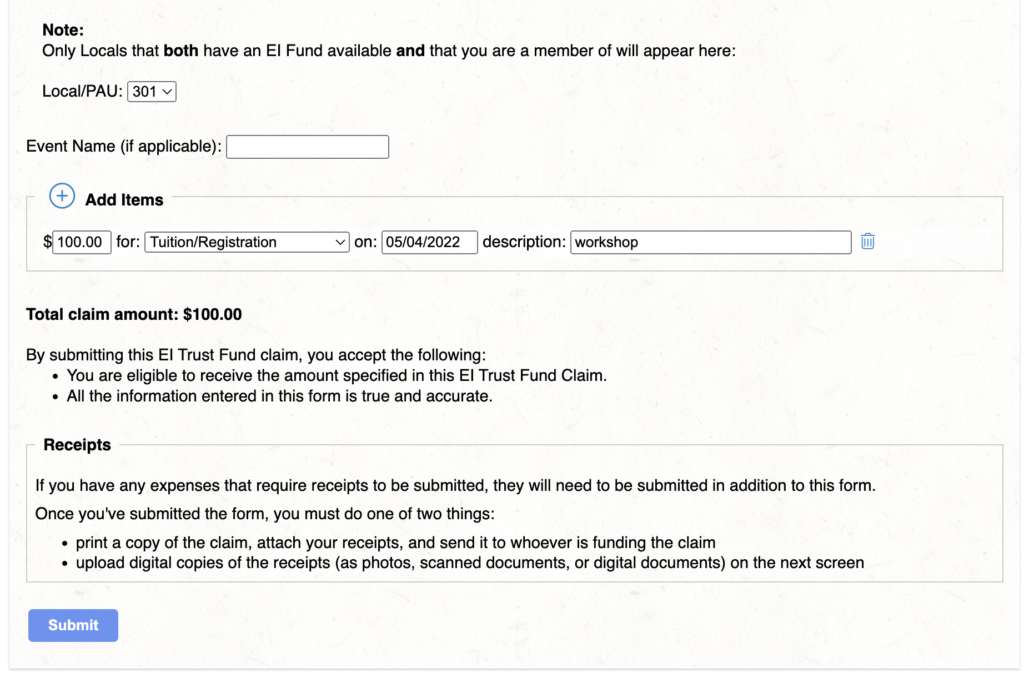 The Confirm EI Trust Fund Claim screen will appear click on Confirm.
EI Trust Fund Claim will now be submitted to add receipts click on Add Document.
Receipt section will open, click on Choose File to find the receipt saved and click on Add Document
Once you have chosen your file you will see it green and click on Attach.
Once it is attached you will see the file and if you need to remove click on Remove.  If you need to add another document, complete the same steps.
To go back to claims screen click on List of EI Fund Claims.
Back at the My EI Trust Fund Claims under Recent Claims you will see those submitted if you click on the Pencil you can edit the claim.
When editing a claim the screen will indicate you are Editing Claim XXX.  Once edit is complete click on Submit.