In order to get an email notification about new posts in forums.una.ca do the following.
Log into forums and choose a board. Near the bottom you'll see the 'subscribe' button. Click the check mark. Please note the check mark will disappear when you're subscribed.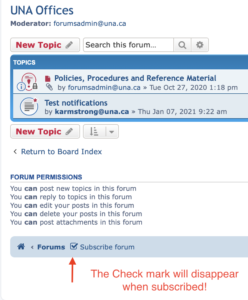 Then open your user control panel.
Under the 'Board Preferences Tab' -> Then the 'Edit Notifications options' tab on the left column.
Choose under what circumstance you'd like to be notified with the check boxes provided.
Submit the changes.