Configure Apple MAIL for
UNA Mail
You can access UNA MAIL from any web browser (we recommend Google Chrome, or Firefox not Safari) at any time:  https://mail.una.ca OR from the UNANet page:  https://www.una.ca/unanet
Information you need to have handy before starting:
Current Year UNA Membership card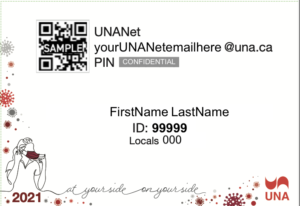 UNANet login ID:  ends with @una.ca *logins
don't usually contain spaces or punctuation.
UNA Member PIN: printed on your current year membership card –
 it is CaSESenSitiVe
Replacement cards can be requested from Data Maintenance  UNA Membership How to Guide
Desktop or Portable Mac
Add an email account manually
Search in Launchpad or go to Applications for the MAIL application

 
Right of the  menu, click on Mail (left-top menu on the computer) drag down and select "Add Account…"
Next, window, choose the last item of the list, click on Other Mail Account…
Then click Continue.
Enter your name, UNA Email Address (with @una.ca) and Password & click Sign In
Next screen, you will see details such as Account Type and Incoming Mail Server and Outgoing Mail Server.
Enter the settings manually, choose IMAP in the Account Type if it is not already selected for you.
Add the Incoming Mail Server and Outgoing Mail Server details: mail.una.ca
Click Sign In and the account information will be verified for you.
Tap Save.
Account information will verify and you will be able to Sign In
Next window: Select apps to use: deselect Notes app
Click Done