Creating Bulk Filters
Bulk mail is a category of email that organizations use to send advertisements or deliver newsletters. You may receive some bulk mail because you signed up to receive a specific newsletter or joined a particular mailing list. Other bulk mail may arrive in your mailbox unsolicited.
As the name contains, these 'bulk' emails can clutter your inbox and feel overwhelming to sort through. To simplify your inbox, there is a way to create a filter for these bulk emails. You can choose to have them sorted by a folder in your inbox, or marked with a tag. There is the option to discard as well, although it is cautioned against in case there is an important e-mail that gets filtered in.
To add a bulk filter, follow the steps below.
1. Open the preferences tab in Zimbra, then in the left column click 'Filters'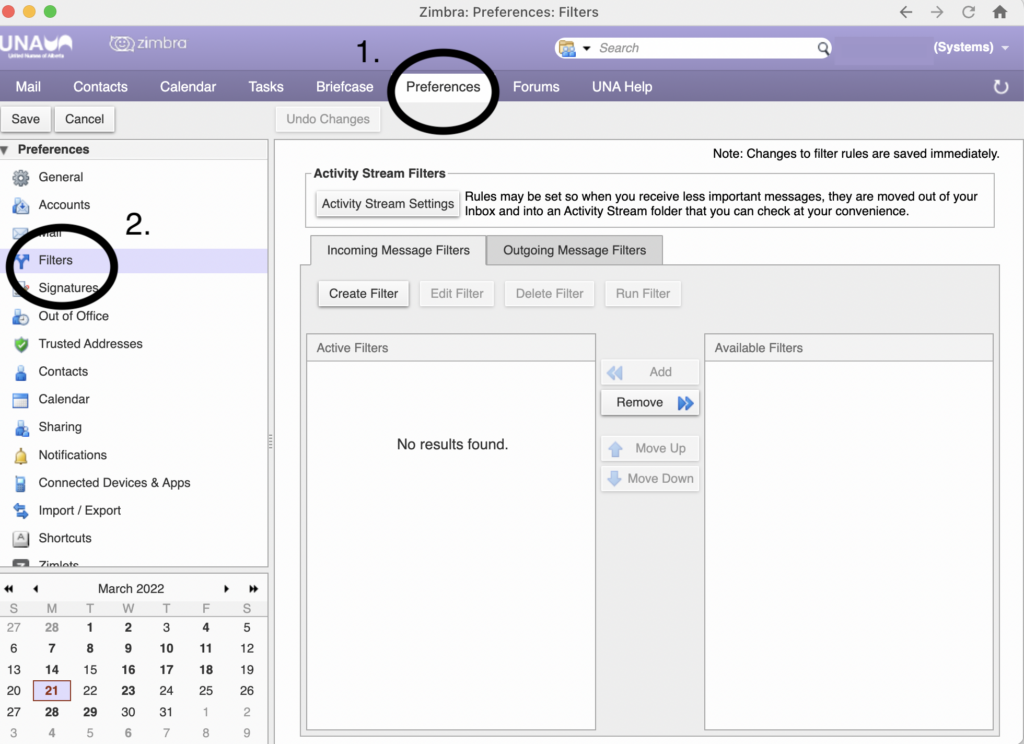 2. On the right side, click 'Create Filter'
3. The 'Add Filter' Box will open. Here, you can create a filter name (example: Bulk Filter). You will want to keep the 'any' under 'If any of the following conditions are met. Then, click the drop down arrow where it says Subject and change it to Message. The last drop down box will say 'in conversations I started'. Again, click the drop down arrow and change that to 'mass marketing (bulk)'.
In the second section, under Perform the following actions, you will then choose your preference to whether you want it to be moved into a specific folder (which you can create at this time – see Step 3a), or tag the message.
3a. At this time you can choose the folder which you'd like the bulk mail to be automatically sorted into. In the bottom left corner, you can also create a New folder.
4. At this time, once all the fields are completed, this is how it will look. You can then hit 'okay' in the bottom right corner.