It may be desirable to see disparate calendars in a single view. For example, the attendance calendars for both offices.
You can group calendars together by doing the following.
In the Calendar right-click or click on the small triangle on 'New Appointment', then select 'Calendar'.
Give the Calendar a name and check 'Exclude this calendar when reporting free/busy times'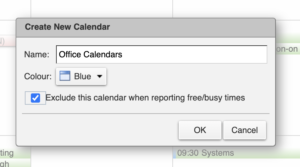 Then Drag other calendars on top of the newly created calendar which creates a nested group as shown below.
You may then toggle the 'layer' on and off to suit your needs. You can also right-click on the Calendar and select 'Open in a separate window' to quickly view that Calendar without toggling it as a layer in your main view.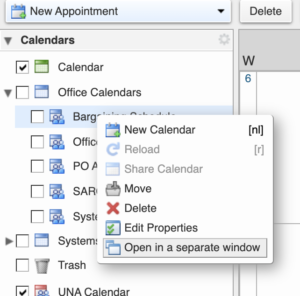 Other examples might be used for vacations and EDOs or Duty Roster and Vacations.
DO NOT: Add the extra calendars as children of your main calendar, this will make them always show up in the main view regardless of the view toggle and if you have shared your calendar it will share the sub-calendars as well.
DON'T DO THIS – note the grouping is a child of your main calendar.